15days Bird Watchers Safari
This itinerary is highly recommended for birders seeking a slow but detailed tour that gives the very best of the Kenyan bird life in a very relaxed atmosphere. We have carefully selected the IBAs and with a minimum of 2 nights in every location, you will have quality time devoted to birding instead of being on long road transfers - and this is what sets our tours apart. You start with Nairobi National Park followed by the Rift Valley Lakes. We give a mix of fresh water lakes (Naivasha and Baringo) and salt water lakes (Nakuru and Bogoria). You then go to Kakamega Forest, which is a remaining patch of the tropical rain forest. The last 3 days of the tour are reserved for Masai Mara, the Africa of everyone's dream: rolling plains, great wildlife and absolutely good birding.
DAY 1: NAIROBI-Arrival at the Jomo Kenyatta International Airport in the evening. Transfer to a hotel.
DAY 2: NAIROBI NATIONAL PARK-After breakfast we cross over to the Nairobi National Park, which despite being only a few kilometers from the city, is a home to big game. In its open grasslands scattered with acacia trees we will see the first game like Gazelles, Zebras, Giraffes and maybe some of the Cats.
Today we will see Ostrich, Secretary Bird, Crowned Crane, Vulture, Cattle Egret, Great Egret, Tawny Eagle and a herd of Buffaloes should provide Red-billed Oxpecker perched on their backs. Black Kite, Marabou Stork, Pied Crow and African Palm Swift are also available in the park.
A walk around the Hippo pools should give us our first sighting of the Nile Crocodiles and the Helmeted Guineafowl. In the Yellow-backed Acacia, look out for Grey Crowned Crane, Red-throated Tit and Chestnut-banded Plover. Overnight at the La Mada hotel or equivalent hotel in Nairobi.
DAY 3&4: MENENGAI CRATER - LAKE NAKURU-After breakfast we leave Nairobi via the Nakuru road to the Rift valley. The Nairobi - Nakuru road is on a contour along the rim of the Rift valley and on viewpoints we will be able to see our whole route for the next days. Our destination is the Lake Nakuru stay at the lodge/camp.
On the way we stop at the Limuru Swamp where we do our first bird count: Little Grebe, Yellow-billed and Maccoa Duck, Pelicans, Coots, Egrets and Herons. Soaring are Black Kite, Augur Buzzard and Pied Crow.
Possible sightings here are the Common Stone chat, Yellow rumped Seed eater, Cinnamon-breasted Rock Bunting, Yellow Bishop, Yellow-mantled Widowbird, Northern Anteater chat, White-fronted Bee-eater and Shallow's Wheatear.Lake Nakuru, which is famous for its thousands of Lesser Flamingos - the Greater Flamingoes will be easily distinguishable by their height. The Great White and Pink-backed Pelican and Black-winged Stilt are also there, Pied Kingfisher.The lake has a low concentration of salt, so it supports fish that of course attract other water birds.It is a good place to look for Avocets, Storks, Ibises, Ducks, Cormorants, Herons, and Terns. In the wooded acacias there is a chance to see the White-browed Coucal, Broad-billed Roller, Arrow-marked Babbler and the Narina Trogon. We go with a picnic lunch, so that we can take a full day for birding and game viewing in the park.
DAY 5, 6 & 7: LAKE BARINGO-After breakfast we head further north to Lake Baringo. This is a fresh water lake with a slight degree of alkalinity. The climate is dry and the cliffs around house a variety of bird life.
Over 400 species of birds have been recorded. The woodlands by the lake are alive with White-browed Sparrow-Weavers, Jackson's and Red-billed Hornbills, Bristle-crowned Starlings, and the rare Northern Masked Weavers, Brown Babbler,there are several Hamerkops along the lakeshore and with luck we should be able to see their nest, which a pair of Grey Kestrels have adopted as a home. There will be time to relax, enjoy the pool, and bird the grounds of the lodge for the resident Spotted Eagle-owls, and Sunbirds such as the Beautiful, Hunter's and the Violet-breasted. Nightjars are common on the lake shores at night and the Hippos graze freely on the camp. Overnight is at Lake Baringo camp.
On day 6 we go to the nearby alcaline lake of Bogoria, famous for its thousands of flamingos and beautiful hot springs. As this area is very hot, we go early and return to the Baringo camp in time for a late lunch. Afternoon is spent birding leasurely on the lake shores .
Before breakfast on day 7 we will bird the escarpment and surrounding countryside for Hemprich's and Eastern Yellow-billed Hornbill, White-crested Turaco, Madagascar Bee-eater, Rufous-crowned Roller, Gabar Goshawk, Cliff Chat and Verreaux's Eagle which feeds on the Rock Hyrax.Later on the day we make a boat ride over Lake Baringo, always on the lookout for new bird species. We will come close to the Goliath Heron, African Fish Eagle, Malachite Kingfisher, plus swimming hippo and crocodiles.
DAY 8 & 9: KAKAMEGA FOREST-We aim to reach Kakamega Forest for a late lunch. This forest, in the heart of an intensively cultivated agricultural area, is a superb remainder of virgin tropical rainforest and is of course the home to a wide range of specialty birds, many which are not found anywhere else in Kenya. The forest is not only home to the rare De Brazza's monkey (only found in Kakamega Forest), but also to the Hammer-headed Fruit Bat, Flying Squirrel, 400 species of butterflies and no less than 330 species of birds.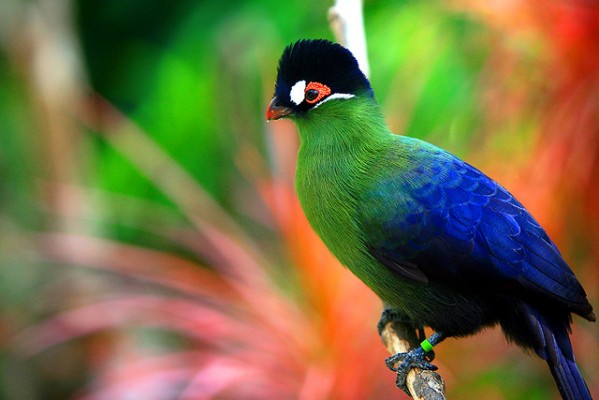 Yes, birding in a forest has its fair share of difficulties but this is easily forgotten when our count increases with hopeful sightings of the impressive Black-and-white-casqued Hornbill, Ross' and the Great Blue Turaco. Other notables are the Grey-headed Negro-finch, Red-headed Bluebill, Chestnut Wattle-eye, Mackinnon's Shrike and many more. Overnight in the Rondo Retreat in the forest.
DAY 10: TO LAKE NAIVASHA-A scenic transfer through the Nandi Hills and the tea rich area of Kericho takes us back to Nakuru and further south to the Lake Naivasha area.Lake Naivashais a fresh water lake without a known outlet. This is very strange considering that the rivers that feed it are salty. The lake has dense vegetation, which in turn supports a variety of birds. The area has a bird count of 350 species.
We reach the Lake Naivasha camp/lodge in time for a late lunch where we'll stay for the next two nights. In the afternoon we do a bird walk in the garden of the hotel/camp, which borders the lake. A late afternoon boat ride gives us not only the chance to see numerous Hippos but also a wide variety of fresh water birds. A nocturnal visitor in this lodge/camp is the hippo, whose deep munching we will easily identify from the comfort of our rooms/tents.
DAY 11: HELL'S GATE NATIONAL PARK-Hell's Gate is only a 20 min drive away from our lodge. The first part is open grasslands bordered with steep rock cliffs in which the Rüppell's Griffon Vulture nests. Easy sightings here are the Verreaux's or Black Eagle, Common Ostrich, Black-shouldered Kite, White-fronted Bee-eater, Grassland and Long-billed Pipit, Northern and Schalow's Wheatear, Lilac-breasted Roller...
The narrow gorge has a completely different habitat and hence very different birds: Yellow, Grey and African Pied Wagtail, Red-cheeked Cordonbleu, Purple Grenadier, Common Drongo, Superb Starling, Brimstone Canary, Common Waxbill, White-browed Robin-Chat...
DAY 12, 13 & 14: MASAI MARA-We head to the famous Masai Mara National Reserve, which borders Serengeti in Tanzania. Mara is the gem of birding and game viewing in Kenya with 450 s
pecies recorded. We will drive through Masai land, home to one of the most fascinating cultures in Africa.
In the vast grasslands we expect to see Elephants; the large Cats - Lion, Leopard, and Cheetah; the herd animals - Zebra, Wildebeest, Thompson's and Grant's Gazelles; and specialties like the Hartebeest and the Topi.
Expected bird species are the highly conspicuous Common Ostrich, the small but still conspicuous Cardinal Quelea, Sooty Chat, Ground Hornbill, Open-billed Stork, Temminck's Courser, Yellow-throated Sandgrouse and Denham's Bustard. Lilac-breasted Rollers are common. If we find a kill, we may see six species of vultures all dining together: Egyptian, Hooded, Griffon, Lappet-faced, White-backed and White-headed. It will be a double reward should a Hyena or a Jackal join in the scramble for the kill.
In addition we will encounter numerous raptors such as Bateleur, Martial and Tawny Eagles, as
well as Pale Chanting Goshawk, Augur Buzzards and Black-chested Snake Eagles. Along the Mara River we'll watch for African Finfoot, Schalow's and Ross' Turaco, Crested Guineafowl, Woodland Kingfisher, Yellow-billed Barbet, Black-billed Weaver, Violet-backed Starling, and perhaps with luck, Pel's Fishing Owl. Any tapping noise on the trees may be indicative of the relatively uncommon Woodpeckers (Golden-tailed and Fine-banded). Hopefully we will be lucky enough to see some of the more difficult to see mammals such as Bat-eared Fox, Hunting Dog, Serval and the delightful Banded Mongoose.
DAY 15: BACK TO NAIROBI
Transfer back to Nairobi in time for lunch.
Note; this itinerary may operate as either luxury lodge safari or budget camping safari;

PACKAGE INCLUDES
Accommodation as detailed in the itinerary/as par the booking;-Luxury lodge/budget/camping
All meals noted in the itinerary. Each day generally includes Breakfast, Lunch, and Dinner buffets consisting of both western and local dishes.
Transportation in standard game viewing safari vehicle complete with pop-up roof for easy viewing and photography.
Every passenger is guaranteed a window seat.
Your driver/guide speaks English and has in-depth knowledge of the flora, fauna, landscape, and Kenyan culture safaris.
A minivan outfitted with two-way, long range high frequency radio communications equipment.
Each 4x4 Toyota Hiace minivan carries safari accessories including window sills, a first-aid kit, an ice-chest, and a fire extinguisher.
Bottled mineral water during game drives.
Park entrance fees and game drives as noted in the itinerary.
All government taxes, levies, and fees
Pick up and drop off transfers
NOT ICLUDED:
International airfares and departures taxes.
Personal communications charges for telephone calls, faxes, email, etc.
Tips and gratuities for your driver/guide.
Alcoholic and non-alcoholic beverages. (Bottled mineral water is provided in the minivan while on game drives.)
Laundry services.
Between meal snacks, and events not included in your itinerary
Tips
Rain jackets, hand cloves
Balloon safari in Maasai Mara (USD$475)per ride
Personal needs
Maasai village visit.(15_20usd$)
Night game drive ($150 per person)
Booking tel.+254-722359685