Nairobi giraffe centre/david shedrick & karen brixen tour

Daily departure;
One day excurssion to Giraffe centre, Karen Brixen & David Shedrick .
David shedrick
At the age of 28 in 1948, David Sheldrick became the founder Warden of Tsavo, Kenya's largest National Park. He had to deal with the problem of armed poachers,
which he was forced to combat by utilizing staff from the Game Department and National Parks. He studied every facet of the elephants' lifestyle on the preserve, collecting data on their food sources, and, along with his
wife, Daphne, rescuing and hand-rearing vulnerable elephants, rhinos and antelopes.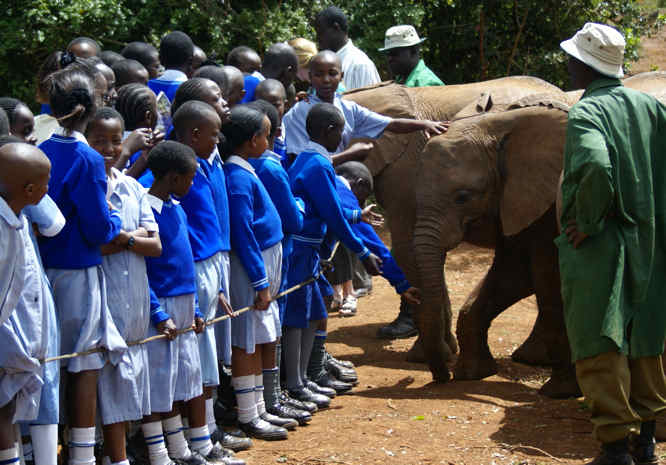 Sheldrick helped to develop the Tsavo's infrastructure. There were no roads or buildings when he first arrived. He paved 1,087 kilometres of tourist all-weather roads, 853 miles of administrative roads and 287 kilometres of anti-poaching tracks. He also oversaw the construction of a concrete causeway across the Galana River.
Giraffe center-The Giraffe Centre is located at Karen, approximately 5 kilometres (3.1 mi) from the centre of Nairobi Kenya. It was established in order to protect the endangered Rothschild Giraffe, Giraffa camelopardalis rothschildi, that is found only in the grasslands of East Africa.
The Giraffe Centre was started by Jock Leslie-Melville, the Kenyan grandson of a Scottish Earl, when he and his wife Betty captured a baby giraffe to start a programme of breeding giraffe in captivity at their home in Langata - home of the present centre. Since then the programme has had huge success, resulting in the introduction of several breeding pairs of Rothschild Giraffe into Kenyan national parks.
In 1979, Leslie-Melville added an education centre to his (then still private) giraffe sanctuary. By 1983 he had raised enough money to establish the Giraffe Visitor's Centre as a tourist destination in Nairobi.
The main attraction for visitors is feeding giraffes from a raised observation platform. The centre is also home to several Warthogs which freely roam the area along with the giraffes.
Karen Blixen Museum was once the centre piece of a farm at the foot of the Ngong Hills owned by Danish Author Karen and
her Swedish Husband, Baron Bror von Blixen Fincke. Located 10km from the city centre, the Museum belongs to a different time period in the history of Kenya. The farm house gained international fame with the release of the movie 'Out of Africa' an Oscar winning film based on Karen's an autobiography by the same title.
The Museum is open to the Public every day (9.30 am to 6pm) including weekends and public holidays. Visitors are encouraged to be at the Museum by 5.30. Guided tours are offered continuously.
Transport by Safari mini bus/ 4 seater car-;
None Resident
Price for 1 person = $ 160
Price for 2 person = $ 110 per person sharing inclusive
Price for 4 person = $ 90 per person sharing inclusive

Price for 6 person = $ 80 per person sharing inclusive

Kenyan
Resident;-From-2pax 6,500per.person sharing.

Resident;-From-4pax-5,500per.person saharing.

Resident;-From-6pax-4,500person sharing
Booking tel.+254-722359685
The Packages Includes •
Transport

Entry fees,
Lunch,
Services of a professional tour guide/Driver.
Drinking 1ltr.p.person per day.
The Packages excludes
Drinks •
Any other extras not mentioned
Nairobi Excurssions & Day Trips Tours