5days Mount Elgon Trekking & Camping
Mount Elgon is a prime trekking mountain in East Africa. Elgon is a huge volcano with the largest crater of the major peaks in Africa. The caldera is one of the world's largest.
It name derives from it's Massai name of "Ol Doinyo Ilgoon" which translates to "Breast Mountain" and was also known as "Masaba" on the Ugandan side.
Mount Elgon is a favorite peak in Africa. It is less crowded than Kilimanjaro, just as spectacular, and since there are less people on the slopes, you have a much greater chance of spotting wildlife. There are several waterfalls on the slopes, and there are even hot springs to soak in inside the crater! Climbing the mountain is an experience not soon forgotten.

Mount Elgon consists of five major peaks:

Wagagai (4,321 meters); Uganda.
Sudek (4,302 meters); Kenya/Uganda border
Koitobos (4,222 meters); Kenya
Mubiyi (4,211 meters); Uganda
Masaba (4,161 meters); Uganda

Day 1: Nairobi to Kitale
Our driver will Pick up from Your residential house or hotel at 0700hrs. This will be a long day drive which will take close to 7 hours. Our first stop over is in Nakuru Nakumatt Shopping Mall for early lunch as we will not have any other point for lunch. This will take like 45min for lunch break, there after proceed on to Kitale on the main Highway. From Nakuru to Eldoret will take like 3 hours and then 2 hours to reach to Kitale Town. Upon arrival you will check in West-side Hotel which is about 1 km before you get to the town, the hotel is built on a silent and very cool place and it has a swimming pool which welcomes you after a long day drive. Familiarize with the people around as well as have time to refresh yourself in the swimming pool. Dinner and overnight in West-side Hotel
Day 2: Kitale to Chorlim Gate
Wake up call at 0730hrs, then you will have your breakfast served in the restaurant, there after check out the hotel at 0930am accompanied by guide and crews. The drive from the hotel to the Chorlim gate will take like
45min to 1 hour. Upon arrival at the gate the check in formalities and park fees entrance fees are done at the gate. The trekking begins at the gate and after 2 hours trekking you will be served with picnic lunch at the Endebess Bluff. After lunch head up for the next 2 hours to reach to Mutamaiyo camp, the trekking from the gate to the camp normally take 4-5 hours and we will arrive at the camp early evening, the distance covered normally 14km and 2950m dinner and over night at the camp kitale.

Day 3: Mutamaiyo camp to Road End
Wake up call at around 0700hrs, after refreshing up, breakfast will be served as from 0730hrs, then after the breakfast each guest will be packed with picnic lunch which will be taken along the way at any picnic site. The day will unfold and you will be able to walk in the forest and for the birdwatchers you will be able to spots many types of birds along the way. The trekking from Mutamaiyo Camp to Road End normally take 4-5 hours. Upon arrival at the camp you will be welcomed by a cup of coffee or juice or African tea and snacks which will have been prepared by our cooks who always walks ahead of us. Your tents will have been mountained by our crews, the rest of the afternoon will be spent in this camp which is on a high level as we await to attempt the Summit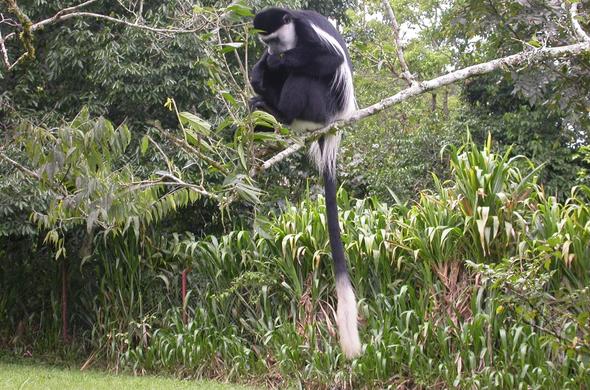 the following morning. Dinner will be served at 1830hrs at Road End Camp. After the dinner the bonfire will be available to make the night warm for those who will be freezing
Day 4: Road End to Koitobos & Summit
Wake up call will be 0400hrs, you will be served with hot coffee or chocolate and some biscuits, the trekking to the summits starts at 0445hrs, we will pass through the plan land and a bit of descents will be experienced. At about 0630hrs you will have an opportunity to see the sun rise. Then at about 4000m we will have a steep walk up for about 220m to get to the Top. The ascent is almost similar with the baranco wall in Kilimanjaro, the guests are advised to walk at each pace to avoid mount altitude. The trek from Road End to Koitobos (summit) 4km, this normally takes like 3hrs to hit the summit 4222m, after taking the photos we then descend down to Road head Camp for lunch and relaxing for few hours, there after descend further down to Mutamaiyo which takes another 3 hours to get to Mutamaiyo. Upon arrival you will be served with snacks and hot coffee as well as tea. Dinner and overnight are served at 1930hrs.

Day 5: Mutamaiyo to Kitale & Nairobi
This being the last day in the mountain, the breakfast will be served around 0530hrs, then prepare to descend down for another 2 hours, this early walk you will be accompanied by the rangers since early morning walk might encounter with the Elephants or Buffalos along the way, visit Kitum Cave which is the biggest Cave in Africa. Makkingeny caves then you will exit Chorlim Gate. You will be served with lunch at the campsite which is at the gate before you embark with the journey back to Nairobi which takes 6-7 hours with a drop off to your respective places of residence where the Adventure comes to an end.
Price for 1 person = US$ per person sharing

Price for 2 person = US$ per person sharing

Price for 4 person = US$ per person sharing

Price for 6 person = US$ per person sharing
Included in the above prices:
All transportation to & from the mountain.
All Park fees.
All food while on the Mountain.
Accommodation in mountain huts & camping where applicable.
All guiding services
Porters support for the trekking.
Not included:
Personal clothing and equipment.
Tips and gratuities for guides,cook and porters.